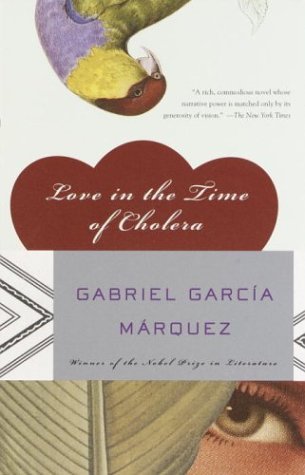 Synopsis: In their youth, Florentino Ariza and Fermina Daza fall passionately in love. When Fermina eventually chooses to marry a wealthy, well-born doctor, Florentino is devastated, but he is a romantic. As he rises in his business career he whiles away the years in 622 affairs - yet he reserves his heart for Fermina. Her husband dies at last, and Florentino purposefully attends the funeral. Fifty-one years, nine months, and four days after he first declared his love for Fermina, he will do so again.
With humorous sagacity and consummate craft, Garcia Marquez traces an exceptional half-century story of unrequited love. Though it seems never to be conveniently contained, love flows through the novel in many wonderful guises - joyful, melancholy, enriching, ever surprising.
Date Published: 1985
Original Title: El amor en los tiempos del colera
Number of Pages: 348
Rating: 4/5

This book is held up as one of the greatest love stories in all of literature. Spanning over fifty years, it details the turbulent romance between Florentino Ariza and Fermina Daza.

It's surprising how well this book works as a love story considering the two love interests spend most of the book apart. Instead, it details their individual lives and the ways they intersect at crucial moments. Florentino is determined to be with Fermina someday, while Fermina chooses to move on from her adolescent love affair and marry someone else.

The story is written so beautifully it took me about a week to read it because I wanted to linger over every single word. I can't count how many times a sentence broke my heart into pieces only to be shattered into even tinier pieces because of a sentence on the very next page. The language is so rich and captivating that it deserves close attention. This book is not a speed-read.

While I enjoyed the story overall, there were a couple of scenes that I found disturbing. There are certain circumstances where rape and pedophilia are presented in a romantic light. I'm wondering if this was done deliberately on the part of the author to make the point that passion and love can be used to justify the most atrocious acts. That's how I interpreted it anyway, but I would leave it up to each individual reader to make up their own minds about it.

Love in the Time of Cholera is ultimately about the different forms that love can take. It reminds us that adolescent love is often shallow and fleeting. It isn't until Florentino and Fermina reach old age that they are able to love each other wholly and unconditionally even after their youth, health, and beauty has been stripped away.