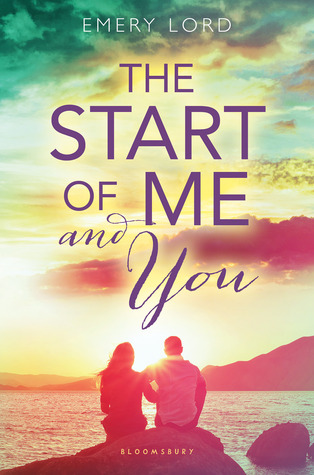 Synopsis: It's been one year since it happened - when Paige Hancock's first boyfriend dies in a swimming accident. After shutting out everyone except her family and three best friends, Paige has decided it's finally time to rejoin the real world...and she has a plan:
1. Date a boy. Her old crush Ryan Chase is the perfect path to normalcy.
2. Attend parties: With her friends by her side, doable.
3. Join a club: Simple, it's high school after all.
4. Travel: Well, a girl can dream.
5. Swim: Terrifying. Yet possible?
The new Paige feels ready for anything, but when Ryan's sweet, nerdy cousin Max moves to town and recruits Paige for the QuizBowl team (of all things!), her perfect plan is thrown for a serious loop. Starting over isn't easy, but Paige knows the scariest things are usually the most difficult. Can she face her fears and finally open herself up to life and love again?
Date Published: March 31, 2015
Published By: Bloomsbury
Number of Pages: 384
Rating: 5/5
I did not expect to love this book as much as I did. When I first started reading it I thought it was kind of predictable and Paige kind of annoyed me at first. I thought she was too concerned with being cool and of what other people thought of her. But then I remembered - that is exactly what it's like when you're in high school! You want to fit in and be well-liked so of course you want to be perceived as cool. Thankfully, Paige ends up letting her inner nerd shine through towards the end of the book.
I loved all of the other characters in the book. Paige's three best friends are well-rounded and fully fleshed out - different while still being recognizable as typical teenage girls. They all have their own personal lives and are not just there to be foils for Paige. I'm always pleased to see realistic representations of female friendships - sometimes they argue, or even fight but at the end of the day, they're always there for each other.
Of course my favourite character was Max, Paige's love interest. But more than just a love interest, an actual fully-realized character in his own right. He's a nerdy, introverted guy who'd rather read than play sports - my dream guy, basically. I love how the relationship between Paige and Max develops throughout the story - they start out as friends and it takes a while for Paige to realizes that she actually has feelings for him. Just when it seems they're about to connect, disaster strikes and I was left seriously wondering if they would work things out.
I won't spoil it for you - but suffice it to say I was happy with the way things ended.
This isn't just a cute YA romance - it also deals with serious issues of loss and how to cope with it. It has some incredibly emotional moments. I even found myself tearing up at some points! (WHY ARE MY EYES LEAKING?) Even though the book has these heartbreaking moments, the overall tone of the book is inspirational. After I finished reading it, I found myself with a big stupid grin on my face and the urge to Try New Things! The Start of Me and You is one of my favourites now and deserves to be widely read.
This isn't Typical YA. This is YA at its best.