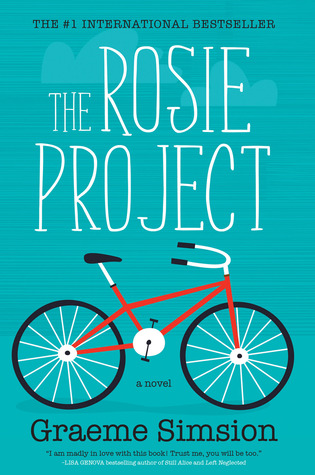 Synopsis: Don Tillman has a brilliant scientific mind, but social situations confound him. He's never had a second date. And so, in the evidence-based manner in which he approached things, he embarks upon the Wife Project: a sixteen-page questionnaire to find the perfect partner. Then in walks Rosie Jarmon.
Rosie is on a quest of her own. She's looking for her biological father, a search that a certain genetics expert might just be able to help her with. Soon Don puts the Wife Project on the back burner in order to help Rosie pursue the Father Project. As an unlikely relationship blooms, Don is about to realize that, despite the best scientific efforts, you don't find love: love finds you.
It's not often I come across romance novels written by men. Perhaps they should write more of them, because Graeme Simsion has written one of the most delightful contemporary romance novels I've ever come across.
The Rosie Project reads like one of those screwball romantic comedies from the 1940s - the ones starring people like Cary Grant and Katherine Hepburn. It's no surprise really, because Simsion originally wrote Rosie as a screenplay. It's very funny reading Don's objective and unemotional perspective on social norms like dating and small talk. Think of Don as a hotter version of Sheldon Cooper from The Big Bang Theory. He's such a wonderful character - analytical and socially inept but not incapable of showing compassion. It is so delightful as a reader to see Don fall for Rosie - even if Don doesn't realize that's what is happening.
My only quibble with this book is that I wish Rosie was a more fully-realized character. She is quirky and unique and lots of fun but I felt she was slightly overshadowed by Don. She just didn't quite come to life for me.
Overall, The Rosie Project is far superior to a lot of contemporary romances our there. Highly recommended for those looking for a fun, light-hearted romp.