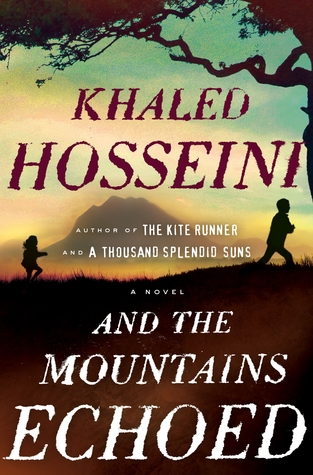 Synopsis: It begins in 1952. Ten-year-old Abdullah and his younger sister, Pari, are everything to each other. What happens to them, at the despairing hand of their father, will test the unshakable bonds of family and irrevocably change not just their own lives, but those of multiple generations.
In this tale revolving around not just parents and children but brothers and sisters, cousins and caretakers, Khaled Hosseini explores the many ways in which families nurture, wound, betray, honor, and sacrifice for one another; and how often we are surprised by the actions of those closest to us, at the times that matter most. Following its characters and the ramifications of their lives and choices and loves around the globe - from Kabul to Paris to San Francisco to the Greek island of Tinos - the story expands gradually outward, becoming more emotionally complex and powerful with each turning page.
I loved this book even though it broke my heart. Every chapter was so beautiful and moving and incredibly sad. But there was still a thread of hopefulness running throughout the entire story and it all ties together so beautifully at the end.
The book opens with a father telling a story to his son. The story is about a father sacrificing his own happiness so that his most beloved son could live in a land of paradise. I loved how the novel's plot drew parallels from the fairy tale and resonated throughout the book. Hosseini writes such lyrical sentences that at times, the book reads like poetry. There were several sentences where I had to stop and marvel at the way he put an idea into words.
Ultimately, this book is about family and what we are willing - and sometimes, not willing - to do for the ones we love. It reminds us that we don't know how much time we will have with the ones we care most about and, even if we are apart from them, we will still love them and carry them in our hearts.