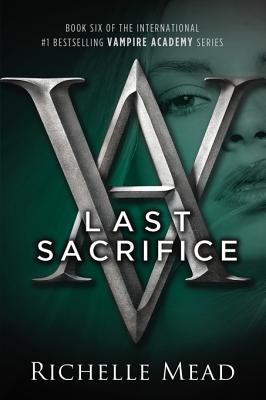 Summary: Lissa Dragomir is a Moroi princess: a mortal vampire with a rare gift for harnessing the earth's magic. She must be protected at all times from Strigoi, the fiercest vampires - the ones who never die. The powerful blend of human and vampire blood that flows through Rose Hathaway, Lissa's best friend, makes her a Dhampir. Rose is dedicated to a dangerous life of protecting Lissa from the Strigoi, who are hell-bent on making Lissa one of them.
The Queen is dead and the Moroi world will never be the same. Now, with Rose awaiting execution and Lissa in a deadly struggle for the royal throne, the girls find themselves forced to rely upon enemies and question those they thought they could trust...But what if true freedom means sacrificing the most important thing of all - each other?
Date Published: December 7, 2009
Published By: Razorbill
Number of Pages: 588
Rating: 4/5

Richelle Mead really ramps up the soapy action in the final book in the Vampire Academy series. There's a murder mystery, a jail break, a lost heir, a love triangle, and a royal election. (Bit of an oxymoron but welcome to the drama that is the Vampire Academy.) Seriously, why is this series not a TV show? It has so much potential!

I'm pretty sure Last Sacrifice is my favorite in the VA series. It's a whopping 588 pages but still manages to be a thrilling page-turner. (See all of the reasons listed above.) There's just so much going on and I love it. The thing is, you can't take Vampire Academy too seriously. You just have to strap yourself in and accept that you are about to embark on a wild, crazy ride.

I thought the relationship between Dimitri and Rose finally lived up to its potential in this last book. There was great sexual tension between them because Dimitri is still struggling with his guilt over the things he did while he was an evil vampire and Rose is trying to move on and date Adrian but Dimitri and Rose are still attracted to each other but they're trying to fight it...Like I said, it's soapy. Of course, it's pretty predictable who Rose ends up with but still, sometimes it's about the journey, not the destination.

I loved the added intrigue of the murder mystery. I had a pretty good guess who the murderer was with about a hundred pages left because I felt some of the clues were fairly obvious but still it's a pretty fun puzzle.

I liked how Mead chose not to end the series with a clichéd 'epic battle' but with the dramatic reveal of the murderer and some pretty astounding political maneuvering on Lissa's part. She wrapped up the Vampire Academy series perfectly but left enough loose ends for the spin-off, Bloodlines.

If you're looking for a fun, sexy adventure series with lots of action and romance, you could definitely do a lot worse than Vampire Academy.