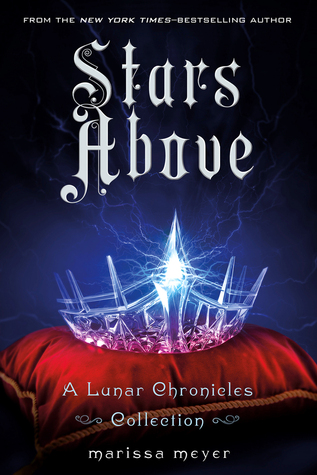 Summary: The universe of the Lunar Chronicles holds stories - and secrets - that are wondrous, vicious, and romantic. How did Cinder first arrive in New Beijing? How did the brooding soldier Wolf transform from young man to killer? When did Princess Winter and the palace guard Jacin realize their destinies?
With nine stories - five of which have never before been published - and a special bonus excerpt from Marissa Meyer's upcoming novel, Heartless, about the Queen of Hearts from Alice in Wonderland, Stars Above is essential for fans of the bestselling and beloved Lunar Chronicles.
Date Published: February 2, 2016
Published By: Feiwel & Friends
Number of Pages: 369
Rating: 5/5

This is the perfect companion of short stories to the Lunar Chronicles. I love how it's not just a collection of previously published material - we get FIVE new stories! (Including a wedding between two of the major characters!)

It's no surprise that I loved each and every single story in this collection but there were a few standouts: 'Carswell's Guide to Being Lucky' shows us what our favorite rogue captain was like during his schoolboy days; 'The Princess and the Guard' is a heartbreaking story about the relationship between Winter and Jacin and reveals why Winter stopped using her Lunar gift; 'The Little Android' is a remarkable retelling of 'The Little Mermaid' about an android who wishes to become human; and 'Something Old, Something New' is the aforementioned wedding story.

I love how the stories are arranged chronologically and 'Something Old, Something New' serves as the perfect epilogue to the series. I had a big, stupid grin on my face after I finished reading it. It was almost too cute. But what would the Lunar Chronicles be without those gush-worthy moments?

This is a must read for Lunartics if you (like me) had serious withdrawals after reading Winter. Now I just have to wait for Heartless and the graphic novels featuring Iko!