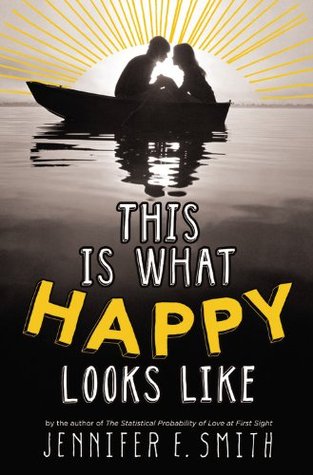 Summary: Graham Larkin and Ellie O'Neill meet - albeit virtually - when Graham accidentally sends Ellie an e-mail about his pet pig, Wilbur. The two seventeen-year-olds strike up an e-mail relationship, even though they don't even know each other's first name.
In a witty and unforgettable correspondence, Graham and Ellie share details about their lives, hopes, and fears. But they don't tell each other everything: Graham doesn't know the secret hidden in Ellie's family tree, and Ellie is unaware of Graham's life in the spotlight.
When Graham seizes an opportunity to spend time in Ellie's tiny hometown of Henley, Maine, he takes their relationship from online to in person. But can two people from such different worlds be together despite the odds stacked against them?
Date Published: April 2, 2013
Published By: Headline
Number of Pages: 404
Rating: 4/5

This book is meant to be read in the summer. It evokes the season so vividly that I felt I should be wearing a bikini and sipping on lemonade while I read it. But seeing as I read it while it's still technically winter, I had to settle for cozy socks and hot chocolate instead.

The one word that sums up This Is What Happy Looks Like is adorable. This is an adorable story with two adorable characters and it's all wrapped up in a sweet, adorable ending. It's pure, sugary fluff but you know what? There is absolutely nothing wrong with fluffy books. Sometimes you want to read something that is made up of sunshine, rainbows and unicorns.

Okay, I'm making this book sound like there's no depth to it but there is some really great character development going on and Graham and Ellie have to overcome obstacles in their budding relationship. I thought it was really interesting how Jennifer E. Smith explored what it might be like for a regular person to date a movie star. Graham and Ellie have to deal with paparazzi, overprotective mothers, and interfering managers.

Overall, This Is What Happy Looks Like is a fun, contemporary romance and will appeal to fans of romantic comedies like You've Got Mail and Win a Date with Tad Hamilton.