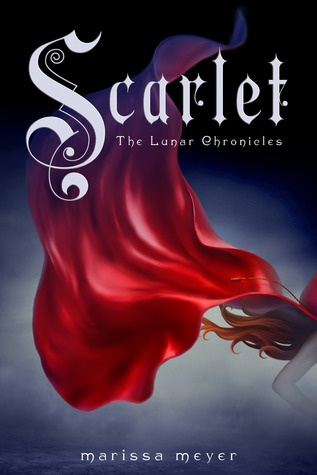 Synopsis: Cinder, the cyborg mechanic, returns in the second thrilling installment of the bestselling Lunar Chronicles. She's trying to break out of prison - even though if she succeeds, she'll be the Commonwealth's most wanted fugitive.
Halfway around the world, Scarlet Benoit's grandmother is missing. When Scarlet encounters Wolf, a street fighter who may have information about her grandmother's whereabouts, she is loath to trust this stranger, but is inexplicably drawn to him, and he to her. As Scarlet and Wolf unravel one mystery, they encounter another when they meet Cinder. Now, all of them must stay one step ahead of the vicious Lunar Queen Levana, who will do anything for the handsome Prince Kai to become her husband, her king, her prisoner.
Date Published: February 5, 2013
Published By: Feiwel and Friends
Number of Pages: 452
Rating: 5/5
The second installment of the Lunar Chronicles is just as exciting and action-packed as the first book, with some awesome new characters and unexpected plot twists.
I love how the story goes back and forth between different POVs so you get more in depth into the story and you get to know all of the characters better. Telling the story from multiple points of view has the potential to become confusing and tedious but Marissa Meyer handles the various POVs with a masterful sense of pacing and plotting. It makes for a real page-turner.
My favorite new character in Scarlet is Captain Carswell Thorne, a thief being held in New Beijing prison who helps Cinder break out and joins her on the run. He's charming, funny, and oh-so-swoonworthy. I love how he and Cinder clash in the beginning because of their different personalities and then go on to form a tentative friendship towards the end of the book. I don't think I've seen a platonic male/female friendship work so well since Harry and Hermione.
And of course there is the other, not-so-platonic relationship between Scarlet and the mysterious Wolf. I think their romance develops quite naturally and it's nice that there's a scene where the girl makes the first move. Poor Wolf is torn between his developing feelings for Scarlet and his loyalty to...well, I won't spoil it but I will say that Wolf's struggle leads to a genuinely shocking moment and afterwards it seems like there couldn't possibly be any sort of reconciliation between Wolf and Scarlet.
Is there? You'll have to read the book to find out ;)