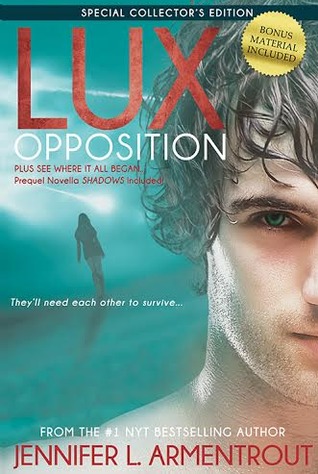 Synopsis: Katy knows the world changed the night the Luxen came. She can't believe Daemon stood by as his kind threatened to obliterate every last human on Earth. But the lines between good and bad have blurred.
Daemon will do anything to save those he loves, even if it means betrayal. But when it quickly becomes impossible to tell friend from foe, and the world is crumbling around them, they may lose everything to ensure the survival of their friends...and mankind.
Date Published: August 5, 2014
Published By: Entangled Teen
Number of Pages: 352
Rating: 4/5
I am so glad I got into the Lux series after all of the books had been published because I think the wait between each book would have killed me. Having said that, I also wish I had read this series sooner because I love it so much! I cannot get enough of Daemon and Kat and now I'm so sad that it's over.
Opposition is definitely the most action-packed book in the series with a lot of different twists and turns, where friends become enemies and enemies become friends(ish.) At the beginning of the book, Kat and Daemon are separated because Daemon was initially brainwashed by the invading Luxen. They don't stay apart for too long, however, which is a relief. And the only thing better than a Kat/Daemon reunion is some Kat/Daemon action. And there is a lot of that in Opposition which makes me all 'warm and fuzzy' as Kat would say.
Even though Kat and Daemon have to deal with an alien invasion and the possible annihilation of mankind, this book is more of a romance than an action/adventure type story. I can't decide what I like better: Kat and Daemon's love/hate relationship in the earlier books or their full-on love relationship in the last three books. Either way, they have unbelievably hot chemistry and I get all giddy inside during the romance scenes. Kat + Daemon = Relationship Goals.
The story of course, has a happy ending but Kat and Daemon both face tragedy and heartbreak along the way. What's really touching is seeing how they support each other and protect each other. Daemon finally learns to see that Kat can take of herself but Kat also learns to allow herself to be vulnerable with Daemon. It really is a wonderfully romantic story. The whole alien invasion is kind of like a subplot. Nothing is more interesting in the Lux series than Daemon's and Kat's relationship.
Now I will be patiently awaiting the publication of Oblivion which is the first book told in Daemon's POV.
OMG, I CAN'T WAIT *FANGIRLING*