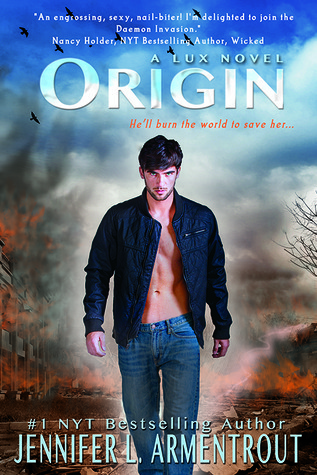 Synopsis: Daemon will do anything to get Katy back.
After the successful but disastrous raid on Mount Weather, he's facing the impossible. Katy is gone. Taken. Everything becomes about finding her. Taking out anyone who stands in his way? Done. Burning down the whole world to save her? Gladly. Exposing his alien race to the world? With pleasure.
All Katy can do is survive.
Surrounded by enemies, the only way she can come out of this is to adapt. After all, there are sides of Daedalus that don't seem entirely crazy, but the group's goals are frightening and the truths they speak are even more disturbing. Who are the real bad guys? Daedalus? Mankind? Or the Luxen?
Together they can face anything.
But the most dangerous foe has been there all along, and when the truths are exposed and the lies come crumbling down, which side will Daemon and Katy be standing on? And will they even be together?
Date Published: August 27, 2013
Published By: Entangled Teen
Number of Pages: 366
Rating: 4/5
Origin definitely marks a real turning point in the Lux series. It feels a bit heavier than the previous books, which makes sense seeing as how Kat is being held captive by a secretive government organization. It reminded me a little bit of the movie District 9 where the government is conducting sadistic and cruel experiments on both humans and aliens. Kat and Daemon are basically tortured, both physically and psychologically at some point in the story. What's really disturbing is that it seems realistic that the government would be doing such awful things if aliens really did live among us.
I love how Origin is told from both Kat's and Daemon's POV, instead of just Kat's. Reading how Daemon truly feels about Kat and how much pain it causes him to see her in such a hopeless situation gets me right in the feels. Plus, the sexy parts told in his POV are REALLY hot.
The ending is really action-packed and feels truly epic. Not everyone makes it out alive and while the deaths of some of Kat and Daemon's friends are sad, I wouldn't say that they are truly heart-wrenching. While I feel that Kat and Daemon are great characters that I connect with, the supporting characters aren't as well-developed so when something happens to them, I find it difficult to care very much.
Still, I loved Origin and I cannot wait to see how everything plays out in the fifth and final book.