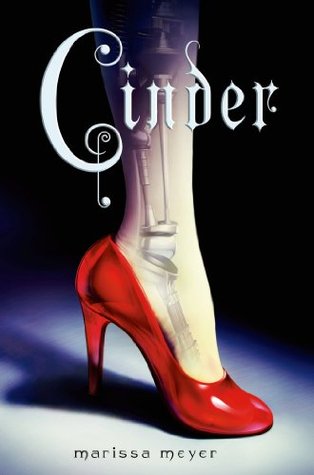 Synopsis: Sixteen-year-old Cinder is considered a technological mistake by most of society and a burden to her stepmother. Being cyborg does have its benefits, though. Cinder's brain interface has given her an uncanny ability to fix things (robots, hovers, her own malfunctioning parts), making her the best mechanic in New Beijing. This reputation brings Prince Kai himself to her weekly market booth, needing her to repair a broken android before the annual ball. He jokingly calls it 'a matter of national security,' but Cinder suspects it's more serious than he's letting on.
Although eager to impress the prince, Cinder's intentions are derailed when her younger stepsister, and only human friend, is infected with the fatal plague that's been devastating Earth for a decade. Blaming Cinder for her daughter's illness, Cinder's stepmother volunteers her body for plague research, an 'honor' that no one has survived.
But it doesn't take long for the scientists to discover something unusual about their new guinea pig. Something others would kill for.
Date Published: January 3, 2012
Published By: Feiwel & Friends
Number of Pages: 390
Rating: 5/5
I remember being intrigued by this book ever since I first heard of it. Cinderella is a cyborg? Sign me up! I thought that alone was interesting but once I read Cinder I was totally captivated by everything about this book.
Cinder is an amazing character. She's smart, she's capable and she is incredibly selfless. I mean, how many female protagonists in YA literature do you come across who are mechanics? Or cyborgs, for that matter. I'm also happy that Cinder gets incredible angry sometimes. And she has good reason to be angry with all of the shit she has to deal with throughout the book. A vindictive stepmother, prejudice against cyborgs, being 'volunteered' to be experimented on, a murderous queen, etc. Cinder lets people know when she's angry and I love seeing that because it lets young women know that it's okay to express their own feelings, even the so-called 'negative' ones.
I also love how the romance between Prince Kai and Cinder is played out. Cinder spends most of the book trying to resist her attraction to Kai because she thinks he'll be mortified if he finds out she's a cyborg. She even refuses him when he asks her to the ball! (How often does that happen in fairy tales?) It isn't until towards the end of the book, when Cinder is attempting to save his life, that she realizes her true feelings for him. Unfortunately, Kai and Cinder cannot quite attain their Happily Ever After. Not in this book anyway.
Now, on to the world-building. When crafting a fictional world, either in a fantasy or a sci-fi novel, detail and authenticity are extremely important. If I don't buy into your world, then I won't buy into your story. Luckily, Marissa Meyer is a master of world-building and has crafted a totally believable and vivid futuristic world. I loved seeing how technology has evolved in the world with things like hovers, androids, ID chips, and portscreens. It all feels like Meyer has taken the technology that exists today and projected it far into the future, so that it's fictional while still being recognizable.
What is the best part about this series is that Marissa Meyer has taken a fairy tale that has been retold thousands of times and given it a completely new twist. And it's not gimmicky at all. The story stands up on its own as a science fiction story with great characters, an interesting plot, and awesome world-building. You do not have to like fairy tales to enjoy Cinder.
Highly, highly recommended to sci-fi fans and fans of fairy tale retellings. Cinder is definitely one of my favorite sci-fi reads of all time.