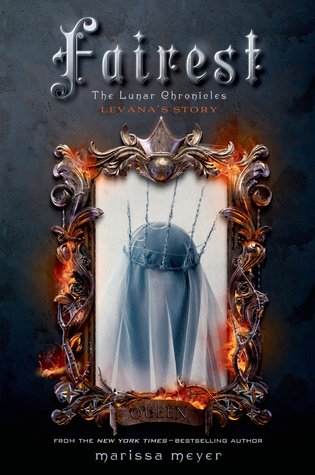 Synopsis: Fans of the Lunar Chronicles know Queen Levana as a ruler who uses her 'glamour' to gain power. But long before she crossed paths with Cinder, Scarlet, and Cress, Levana lived a very different story - a story that has never been told...until now.
Date Published: January 27, 2015
Published By: Feiwel & Friends
Number of Pages: 220
Rating: 5/5
I love stories told from the villain's point of view and Fairest is one of the most perfect villain origin stories that I've ever read. It's been said that the best villains don't view themselves as villains but as heroes and it's true in Queen Levana's case. Every twisted, vindictive thing she does is justified. Levana wholeheartedly believes that everything she is doing is for the good of her people and the good of her country. But it's clear to the reader that Levana only wants to be seen as the fairest queen that Luna has ever had. Obsessed with beauty, she seeks power and control and has no trouble disposing of those that get in her way.
We see that Levana's life is not without tragedy or heartbreak but you don't end up sympathizing with her because her manipulation and greed for power is so abhorrent. Fairest helps the reader to understand Levana but not care for her. Levana is someone who manipulates the man she claims to love into marrying her even though he clearly does not love her in return. Levana doesn't care though. She convinces herself that her husband really does love her and just needs a little coaxing, a little persuading. She continually brainwashes him even when he begs her to stop. Still, she thinks she is doing the right thing. And that is what is so awful about Levana. She does not recognize her own awfulness.
Fairest is required reading for fans of the other books in The Lunar Chronicles. Not only do you get insight into the main villain of the series, but you also get a glimpse into Lunar society, something I suspect will feature prominently in the final book. Be forewarned: Fairest is a chilling read - especially those final few pages.