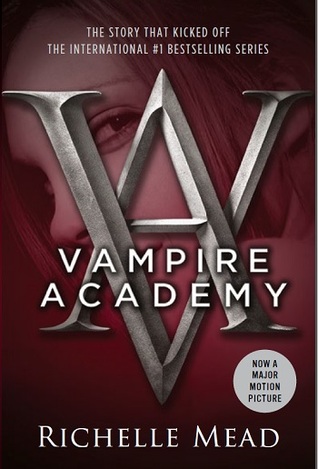 Synopsis: Lissa Dragomir is a Moroi princess: a mortal vampire with a rare gift for harnessing the earth's magic. Her best friend Rose Hathaway is a Dhampir: a guardian whose blood is a powerful blend of vampire and human. Rose's life is dedicated to protecting Lissa from the dangerous Strigoi - the fiercest vampires, who will stop at nothing to make Lissa one of them.
After two years of freedom, Rose and Lissa are caught and dragged back to St. Vladimir's Academy, a school for for vampire royalty and their guardians-to-be. But inside the iron gates, life is even more fraught with danger...and Strigoi are always close by.
Date Published: August 16, 2007
Published By: Razorbill
Number of Pages: 332
Rating: 4/5
I'll admit I was a bit skeptical when I started this series. I haven't really gotten along with some previous YA vampire novels. (*cough* Twilight *cough*). But I had heard some good things and decided to give it a shot. And I'm glad I did. Vampire Academy is tons of fun with lots of drama, romance, and action.
Rose is such a badass and I love her snarky POV. She's tough, brutally honest, and fiercely protective of the people she cares about - namely her best friend Lissa. I thought the friendship between Rose and Lissa was portrayed really well. They understand each other, they look out for each other and yet they sometimes have their problems because they're so different. It's really great to see a female friendship in a YA series that is really well done.
A part I really liked about this book was the world-building. I loved how Richelle Mead created different types of vampires and different classes of vampires within those types. It made the world feel more real and believable, complex but still simple enough to keep track of. I liked seeing how all of the relationships in the novel were dependent upon what type of vampire someone was and how they fit into society.
Another thing I like about this novel is that the teenagers are sexually active. Rose is still a virgin but thinks about sex and guys and enjoys being intimate with them. Lissa has already had sex with a previous boyfriend but is not portrayed as 'damaged' because she lost her virginity to the 'wrong' guy. I like this realistic portrayal of teenage sexuality, particularly in girls.
One thing I was not a fan of in this novel was the slut-shaming. Dimitri slut-shames Rose when he catches her making out with Jesse. Rose is also slut-shamed by mean girl Mia and other people because people suspect her of being a 'blood whore.' And then Mia is slut-shamed for sleeping with two different guys in order to manipulate them. I understand that slut-shaming is a real thing that goes on in high school and I'm sure Mead's goal was to portray high school life as realistically as possible. However, I would've liked it if Rose or another character took issue with the slut-shaming itself instead of being offended at being called a slut.
Other than that, I really enjoyed this first installment of the Vampire Academy series. I'd recommend this book to paranormal romance fans in general and fans of vampire stories in particular.