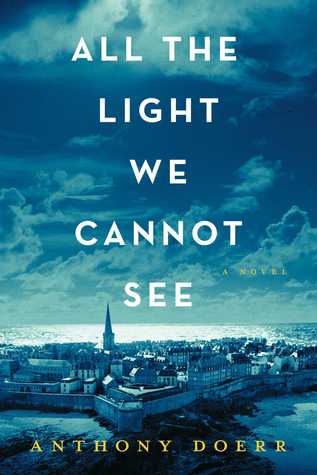 Synopsis: Maurie-Laure lives with her father in Paris near the Museum of Natural History, where he works as the master of its thousands of locks. When she is six, Marie-Laure goes blind and her father builds a perfect miniature of their neighborhood so she can memorize it by touch and navigate her way home. When she is twelve, the Nazis occupy Paris and father and daughter flee to the walled citadel of Saint-Malo, where Marie-Laure's reclusive great-uncle lives in a tall house by the sea. With them they carry what might be the museum's most valuable and dangerous jewel.
In a mining town in Germany, the orphan Werner grows up with his younger sister, enchanted by a crude radio they find. Werner becomes an expert at building and fixing these crucial new instruments, a talent that wins him a place at a brutal academy for Hitler Youth, then a special assignment to track the resistance. More and more aware of the human cost of his intelligence, Werner travels through the heart of the war and, finally, into Saint-Malo, where his story and Marie-Laure's converge.
Date Published: May 6, 2014
Published By: Scribner
Number of Pages: 530
Rating: 5/5
I have got to stop reading these stories set in World War II. They all end up breaking my heart! First, The Book Thief and now All the Light We Cannot See.
I will say that I found some striking similarities between the two books. Both take place during World War II, both feature children coming of age during the war, and both are written in a lyrical, poetic style. But All the Light We Cannot See has a vastly different plot from The Book Thief and so is not in anyway a ripoff.
I think I knew within the first 30 pages or so that this book would break me. Do you ever get that little stutter of emotion in your chest when you read something that moves you in some way? This happened to me a few times while I was reading this book and by the time I got to the ending, I was completely devastated. I knew there wasn't going to be some fairy-tale ending, but when I got to the climax of the book, I almost couldn't stand to go on, it was so heartbreaking.
I fell in love with this book. I fell in love with Werner and Marie-Laure and their way of seeing the world. I loved seeing their sense of wonder and curiosity about the world around them and it was horrifying to see how the war stripped them of their innocence. I think this book showed one of the more devastating consequences of war. It's not just about the lives lost or the environmental destruction: it's about how people, both civilians and soldiers alike, lose the sense that there is goodness in the world.
This book isn't a total downer. There is a sense of hope and optimism throughout, even if it's subtle. I think one of the themes of the book is that we choose how we see the world, either with wonder or cynicism, hope or pessimism. It is completely up to us, no matter what the circumstances are.
I cannot praise the writing style enough. The details are so vivid, the metaphors so descriptive and original that I had no problem picturing the story in my head. Anthony Doerr has said that it took him ten years to write this book and I can believe it - each sentence is crafted to perfection, each word carefully chosen so that the reader is left with the same sense of awe and wonder that the character's have in the story.
This book is a masterpiece. And I don't use that world lightly.
Highly, highly recommended to everyone, particularly if you enjoyed The Book Thief.