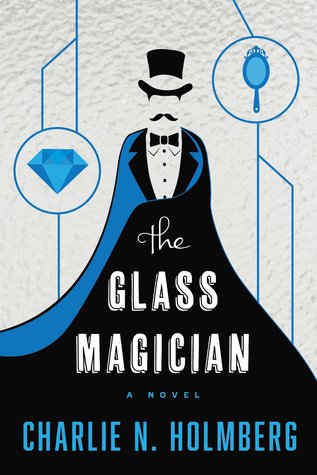 Synopsis: Now well into her apprenticeship with magician Emery Thane, twenty-year-old Ceony Twill is continuing to discover the joy of paper magic. She adores bringing her spells to life in surprising ways, from learning the power of distortion to creating a beloved paper dog. And she secretly hopes that the romance she foresaw blossoming between her and the peculiar yet strikingly handsome Emery finally becomes real.
But when one magician with a penchant for deadly scheming believes Ceony possesses a secret, he vows to discover it...even if it tears apart the very fabric of the magical world. After a series of attacks target Ceony, and catch those she holds most dear in the crossfire, she knows she must find the true limits of her powers...and keep her knowledge from falling into wicked hands.
Date Published: November 4, 2014
Published By: 47North
Number of Pages: 211
Rating: 4/5
The second installment in The Paper Magician series has just as much magic and whimsy as the first book did - and with a touch more romance.
You can clearly see the relationship developing between Ceony and Emery - and not just on Ceony's side. Even though the book is mostly told from Ceony's perspective, it's obvious to the reader through Emery's actions towards Ceony that he is starting to fall for her. You see him becoming more attentive, more protective of her -and it's not just Ceony that notices this. Ceony's budding romance with Emery is met with stern disapproval from people who might just have enough influence to tear them apart.
I will admit that the plot is very much like the first - Ceony takes it upon herself to go after an evil magician in order to protect those she loves most. But it's still a fun read, especially since we get to delve into different types of magic and how it's used. Glass magic is featured prominently (hence the title), along with fire and rubber magic. It was cool to see how glass magicians use mirrors to teleport themselves to different places - a plot device that is used throughout the novel, thanks to Ceony's friendship with another apprentice who specializes in glass.
Like in the last book, Ceony uses her magical abilities and quick thinking to avert disaster. Sadly, she finds that, despite her best efforts, she cannot save everyone.
If you enjoyed the first book, I definitely recommend continuing with the series and reading The Glass Magician.