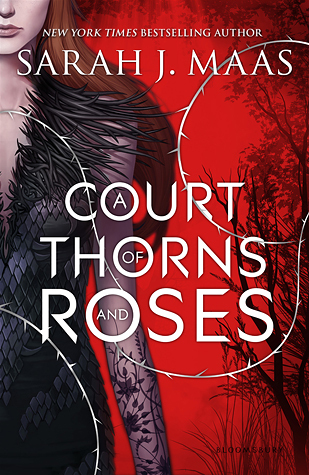 Synopsis: When nineteen-year-old huntress Feyre kills a wolf in the woods, a beast-like creature arrives to demand retribution. Dragged to a treacherous magical land she knows about only from legends, Feyre discovers that her captor is not an animal but Tamlin - one of the lethal, immortal faeries who once ruled their world.
As Feyre dwells on his estate, her feelings for Tamlin transform from icy hostility to a fiery passion that burns through every lie and warning she's been told about the beautiful, dangerous world of the Fae. But an ancient, wicked shadow over the faerie lands is growing, and Feyre must find a way to stop it...or doom Tamlin - and his world - forever.
Date Published: May 5, 2015
Published By: Bloomsbury Children's Books
Number of Pages: 419
Rating: 5/5
I. CAN'T. EVEN.
This may be the most perfect book that I have ever read. It was as if Sarah J. Maas read my mind, discovered what my perfect book would be and then went on to write that book. That's how amazing this book is. It's got everything I love. First of all, it's a Beauty and the Beast retelling with an ACTUAL BEAST. Yes, technically, Tamlin is a shapeshifter capable of transforming into a beast and back to a man at will but he's still got an actual beast form! I have been waiting for someone to do a Beauty and the Beast retelling with an actual beast since the Disney movie and this is the only book so far that I've read that's done it perfectly.
Second of all, the romance is super hot and romantic and is developed so perfectly. Feyre's developing feelings for Tamlin are realized at a realistic pace and it is so beautiful to see them fall in love with each other. I found myself really anticipating the moment when their first kiss would happen and when it did...*sigh*...I got butterflies. Tamlin + Feyre 4EVER
I should also mention that this is the most erotic YA novel that I've ever read. There are some pretty steamy scenes in this book, many of them as sexy, if not sexier, than what I've read before in adult romance novels. I found myself actually going back to read some of the *ahem* naughtier bits in the book. I don't think I've ever been compelled to have a book boyfriend before until I discovered Tamlin.
And speaking of book boyfriends...ah, the lovely Rhysand. So hot, so dark, and such a great character. He's definitely the bad boy in the love triangle and I so want to see more of him. Usually, love triangles aren't my thing but Rhysand, Tamlin, and Feyre are all such great characters that I'm kind of hoping they all just end up together. (Threesome, perhaps?)
I also loved the worldbuilding Sarah J. Maas developed in ACOTAR. The world is believable, populated by many different types of faeries with an interesting mythology behind it. I loved that the faerie world was broken up into different courts (The Summer Court, The Spring Court, The Night Court, etc.) It really gave the story an epic fantasy feel. And that's really what this book is: an epic fantasy with lots of romance, action, and great characters.
And the writing: gorgeous, exquisite, lyrical, top-notch. I can't say enough good things about this book. This is the kind of book that makes me jealous because it's the kind of book I wish I had written. (And the cover? So goddamned beautiful it burns my eyes.)
I cannot wait for the sequel next year. I know there are going to be two more books in the series, but in all honesty, I want TEN more books in this series. And I want them NOW!
Everybody needs to read this book. READ IT! READ IT NOW!