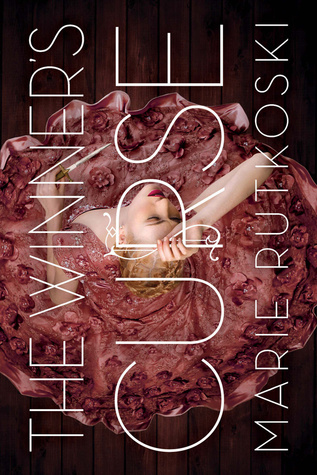 Synopsis: As a general's daughter in a vast empire that revels in war and enslaves those it conquers, seventeen-year-old Kestrel has two choices: she can join the military or get married. But Kestrel has other intentions.
One day, she is startled to find a kindred spirit in a young slave up for auction. Arin's eyes seem to defy everything and everyone. Following her instinct, Kestrel buys him - with unexpected consequences. It's not long before she has to hide her growing love for Arin. But he, too, has a secret, and Kestrel quickly learns that the price she paid for a fellow human is much higher than she ever could have imagined.
Set in a richly imagined new world, The Winner's Curse is a story of deadly games where everything is at stake, and the gamble is whether you will keep your head or lose your heart.
Date Published: March 4, 2014
Published By: Farrar, Straus, and Giroux
Number of Pages: 355
Rating: 5/5
I am completely in awe of this book. It is everything I'm looking for in a romantic historical fantasy. The world-building is incredible, the characters are well-rounded and complex, and the writing is beautiful and lush.
Marie Rutkoski has managed to create a realistic fantasy world of astonishing complexity and depth. The two warring nations, the Valorians and the Herrani, each have their own separate cultures, histories, and languages. The world is so incredibly imaginative that I can feel the history lurking beneath the surface even if it isn't spelled out on the page. This is the kind of world-building that sucks you in and immerses you until you feel as if the story can't possibly be fiction - it must be based on fact. I think that's what every fantasy author strives to do and Marie Rutkoski has mastered it brilliantly - she even makes it look easy.

Kestrel might just be my new favorite heroine in YA fantasy literature. What I love most about her is that, unlike some YA heroines, she is unskilled with using weapons. She's not totally inadequate - she does know how to defend herself. But let's just say Katniss Everdeen could teach her a thing or two about how to use a bow and arrow.

Kestrel has different strengths- for one, she is incredibly smart and tactical. She assesses situations, analyzes her enemies, and uses her wits to gain the upper hand. She's not particularly romantic - which makes it so much more satisfying when she realizes that she has feelings for Arin.

The love between Arin and Kestrel is nowhere near instantaneous - Arin hates Kestrel at first, and everything she represents. Kestrel has her own prejudices about the Herrani but gradually overcomes them as she gets to know Arin. Both Arin and Kestrel are loyal to their respective tribes which makes the love between them even more devastating - they must choose between their love for each other and their loyalty to their people.

The ending is spectacular, wrapping up the first book perfectly but still leaving things open-ended enough for the sequel. I cannot wait to see what happens in the next book.

The Winner's Curse is perfect for fans of romantic fantasy - it's a complex, heartbreaking story that will leave you wanting more. If you loved Kristin Cashore's Graceling series, you'll love The Winner's Curse.