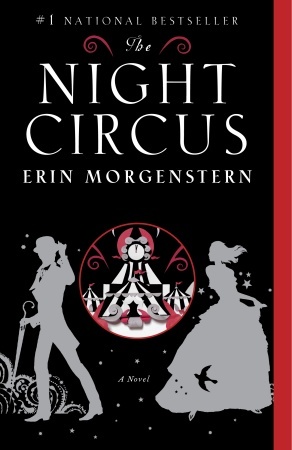 Synopsis: The circus arrives without warning. No announcements precede it. It is simply there, when yesterday it was not. Within the black-and-white-striped canvas tents is an utterly unique experience full of breathtaking amazements. It is called Le Cirque des Reves, and it is open only at night.
But behind the scenes, a fierce competition is underway: a duel between two young magicians, Celia and Marco, who have been trained since childhood expressly for this purpose by their mercurial instructors. Unbeknownst to them both, this is a game in which only one can be left standing. Amidst the high stakes, Celia and Marco soon tumble headfirst into love, setting off a domino effect of dangerous consequences, and leaving the lives of everyone from the performers to the patrons hanging in the balance.
Date Published: September 13, 2011
Published By: Anchor
Number of Pages: 512
Rating: 4/5
Fantasy and romance fans have been raving about The Night Circus ever since it was first published so I'm surprised it took me so long to pick it up. It has everything that could attract me as a reader: magic, dueling magicians, magic, a mysterious circus, magic, romance, and, oh yeah, magic!
Based on reviews I had a certain idea of what the plot would be and how the story would unfold. However, my preconceived notions were completely blown away. I had the notion that it would be a lot like The Prestige (you know, that movie where Christian Bale and Hugh Jackman try to kill each other with magic tricks) but with maybe more of a romantic flavor. Sure, both of these stories have the dueling magicians plotline in common but the similarities end there.
First of all, Celia and Marco are hardly ever together. Celia works her magic within the circus, while Marco works from outside. So they don't get a lot of face time. Yes, they have a few stolen romantic moments, which are quite nice, but I found the love story felt sort of stifled because of the distance between the two characters. The romance simmers beneath the surface almost the entire book until it boils over in the climactic ending. So readers wanting a fast-paced, passionate romance won't find it here. Still, I think it worked in the story overall.
Speaking of slow pacing, the entire story doesn't really get off the ground until about 200 pages in. I feel the author was taking her time fleshing out the characters and the plot to achieve a more dramatic effect at the end but there were times when I really wanted the action to pick up. I suppose I expected dueling magicians in the sense of like, wizard duels in Harry Potter but instead, Celia and Marco compete by building more and more extravagant exhibits for the circus. So, it's pretty light on action, too.
Okay, this is beginning to sound like I didn't enjoy the book at all. I actually really did like it (hence the 4/5 rating.) It was just different from what I expected.
The thing I enjoyed most about the book was the lyrical, vivid writing. Erin Morgenstern is a magician with words, weaving enchanting images that play out in the reader's mind like a movie. I could smell the popcorn, feel the canvas tents, see the incredible illusions being performed. Her imagination is truly staggering and, with descriptions like that, I don't begrudge her the 500 page count at all.
The Night Circus is a magical reading experience and I'm so glad I finally got around to reading it. Some people want there to be a sequel but I think it works perfectly as a stand-alone novel. I would kill to see a film version, though.