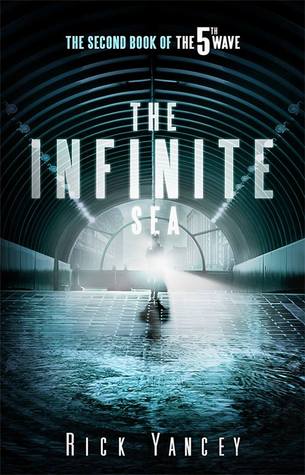 Synopsis: How do you rid the Earth of seven billion humans? Rid them of their humanity.
Cassie Sullivan and her companions lived through the Others' four waves of destruction. Now, with the human race nearly exterminated and the 5th Wave rolling across the landscape, they face a choice: brace for winter and hope for Evan Walker's return, or set out in search of other survivors before the enemy closes in. Because the next attack is more than possible - it's inevitable.
No one can anticipate the depths to which the Others will sink, nor the heights to which humanity will rise, in the ultimate battle between life and death, hope and despair, love and hate.
Date Published: September 16, 2014
Published By: Putnam Juvenile
Number of Pages: 300
Rating: 5/5
In a lot of ways, The Infinite Sea serves as the traditional placeholder in a trilogy - the middle book where not much happens except a lot of setting up for the final novel. It is definitely less epic in scope than the first book.
But Yancey continues to surprise the reader with unexpected twists and different perspectives. For the first time, we get inside the head of Ringer, the grim teenage girl who was recruited as a soldier in the last book and helped Cassie and her group escape. She quickly became my favorite character in this book - tough, resourceful, and intelligent, Ringer is a total badass. She is stoic but not unemotional, expressing her feelings in unexpected ways. Ringer does what she wants and doesn't allow herself to be pushed around by anyone - even genocidal aliens.
In The Infinite Sea, we learn more about the alien's plot to take over the world but the answers we're given only lead to more unanswered questions. There is still a mystery to be solved here and I'm hoping the third book will be the final piece to the puzzle. This isn't your typical alien invasion - there's a lot of nuance to it. I love the complexity of the plot in all its twists and turns.
Another thing I love about this series is the philosophical questions it raises: What does it mean to be human? What sacrifices do you have to make in order to retain your humanity? Is it even worth retaining or is survival the only thing that matters? The characters in this book face hard choices and must weigh every decision - any wrong move might cost them their lives.
If I have any criticism for The Infinite Sea, it's that, at times, it feels a tad overwritten. Yancey clearly loves to play with language and creates passages of stunning imagery - but it sometimes gets in the way of the plot.
The Infinite Sea is a masterful follow-up to The 5th Wave and I cannot wait to see how it all ends in The Last Star.