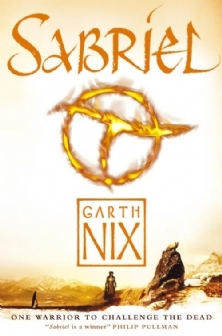 From the back cover: Sent to a boarding school in Ancelstierre as a young child, Sabriel has had little experience with the random power of Free Magic or the Dead who refuse to stay dead in the Old Kingdom. But during her final semester, her father, the Abhorsen, goes missing, and Sabriel knows she must enter the Old Kingdom to find him. She soon finds companions in Mogget, a cat whose aloof manner barely conceals its malevolent spirit, and Touchstone, a young Charter Mage long imprisoned by magic, now free in body but still trapped by painful memories. As the three travel deep into the Old Kingdom, threats mount on all sides. And every step brings them closer to a battle that will pit them against the true forces of life and death - and bring Sabriel face-to-face with her own destiny.
Not since I read Kristen Cashore's Graceling, have I totally and absolutely fallen in love with a fantasy series. Sabriel has everything I'm looking for in a fantasy novel - a kickass heroine, an intriguing magic system, wonderful world-building, and a realistic, yet touching, romance.
The beginning of the book is a bit slow and it took a couple of chapters for me to immerse myself in the world of the Old Kingdom. However, once I got used to the terminology and the magic system, I was hooked. And once the plot swings into action, it hardly ever lets up. I love how Garth Nix gradually reveals the world of the Old Kingdom and the Charter Magic by showing the reader through dialogue and action rather then slowing the story down with endless exposition.
Another thing I liked about the book were the characters. Sabriel has got to be one of the most well-written female heroines I have ever come across. She is strong, intelligent, and capable - but far from perfect. She has her moments of weakness along the way - self-doubt, anger, frustration - but these flaws help make her more real. Touchstone, the young Charter Mage is another great character. He is less sure of himself than Sabriel - not surprising seeing as he's been imprisoned for two hundred years. He looks to Sabriel for leadership but I don't think that makes him weak - it makes him vulnerable and human. I loved the build up of romantic tension between Sabriel and Touchstone - it didn't seem forced and it didn't take away from the main focus of the story.
Sabriel is technically a Young Adult novel but I highly recommend it to fantasy fans of all ages. It is a complex, well-written fantasy that will appeal to fans of Graceling and Lord of the Rings.
Gotta go, I'm off to read the sequels.