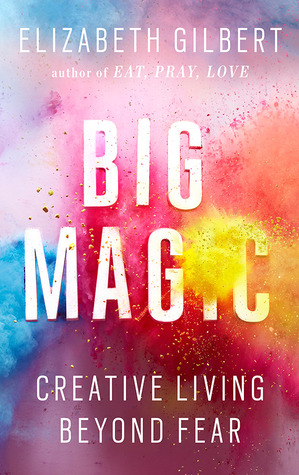 Synopsis: Readers all over the world have drawn inspiration, solace, and empowerment from Elizabeth Gilbert's books. Now this writer of exceptional range and achievement digs deep into her own generative process to share her wisdom and unique perspective on creativity, offering potent insights into the mysterious nature of inspiration. She asks us to embrace our curiosity and let go of needless suffering. She shows us how to tackle what we most love, and how to face down what we most fear. She discusses the attitudes, approaches, and habits we need in order to live our most creative lives. Balancing between soulful spirituality and cheerful pragmatism, she encourages us to uncover the 'strange jewels' that are hidden within each of us. Whether we long to write a book, make art, find new ways to address challenges in our work, embark on a dream long deferred, or simply infuse our everyday lives with more mindfulness and passion, Big Magic cracks open a world of wonder and joy.
Date Published: September 22, 2015
Published By: Riverhead Books
Number of Pages: 288
Rating: 5/5
I've never read any of Elizabeth Gilbert's books before, though I have been aware of them. (Is there anyone left on earth who
hasn't
heard of Eat, Pray, Love?' So Big Magic was my introduction to Elizabeth Gilbert's personal philosophy about creativity and living a creative life.
I FREAKIN' LOVED IT!
This was a book that I NEEDED to read. For almost my entire life, I've wanted to be a writer but have struggled with doubt and insecurity. Reading this book has allowed me to fall back in love with my creativity and reminded me that the point of creative writing shouldn't be to get published or win praise, but to do it for the love of it. I needed to be reminded of that.
The writing style of Big Magic is very informal and laid-back. It feels as if you are talking to a close friend who also happens to be very inspiring. Gilbert shares some of her personal stories about her own struggles with her creativity and her own solutions for facing fears and getting stuff done.
What I love the most about Big Magic is that it doesn't promise to make you rich or successful. Instead, Gilbert reminds us that, when it comes to creativity, external rewards are irrelevant. What's most rewarding is the act of creation itself and falling in love with your own creativity. And isn't that what real success is all about?
If you're an artist struggling to live a more creative life, I highly recommend this book. It just might change your entire outlook on life.