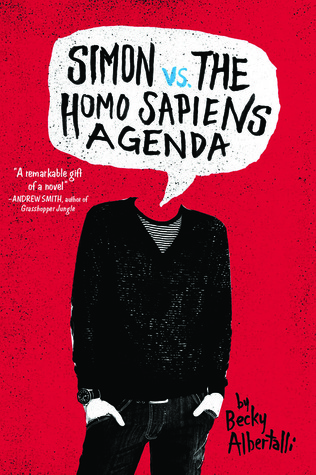 Synopsis: Sixteen-year-old and not-so-openly gay Simon Spier prefers to save his drama for the school musical. But when an email falls into the wrong hands, his secret is at risk of being thrust into the spotlight. Now Simon is actually being blackmailed: if he doesn't play wingman for class clown Martin, his sexual identity will become everyone's business. Worse, the privacy of Blue, the pen name of the boy he's been emailing, will be compromised.
With some messy dynamics emerging in his once tight-knit group of friends, and his email correspondence with Blue growing more flirtatious every day, Simon's junior year has suddenly gotten all kinds of complicated. Now, change-averse Simon has to find a way to step out of his comfort zone before he's pushed out - without alienating his friends, compromising himself, or fumbling a shot at happiness with the most confusing, adorable guy he's ever met.
Published By:
Balzer + Bray
Number of Pages:
303
Genre:
Young Adult Contemporary
Rating:
5/5
This was the first book I read after completely immersing myself in the world of Harry Potter. (For more on my #HarryPotterProject, check out my
Youtube
channel). So I was a bit worried that I might not be able to get into a YA contemporary.
But then, ten pages in...BAM....a Harry Potter reference.
Oh yeah,
I thought to myself,
me and this book are going to get along just fine.
Immediately, from the very first page, I fell in love with Simon. He's smart, witty, a bit nerdy, but not without his insecurities. And the thing I really love about Simon is that he is not one of those self-loathing LGBT characters that we have seen far too often in the past. (I'm looking at you,
Brokeback Mountain.)
Simon doesn't wish he was straight. He isn't depressed or have suicidal thoughts. Instead he has crushes on guys (boys at his school and celebrities), navigates the changing dynamics in his group of friends, deals with annoying family problems, and, oh yeah, fantasizes about sex and masturbates.
Yes, Simon does have to deal with coming out to his friends and family and he also has to deal with assholes harassing him at school. But it never once feels cliched or unrealistic. His family and friends are accepting of him when he comes out, even if it does create some awkward moments. And the bullies at school aren't malicious. They're just a few ignorant teenage boys who, for whatever reason, think gay sex is inherently funny. Simon deals with these issues the best way he knows how to and of course feels some anger and frustration along the way. Mostly, Simon just wants to be understood. And the only person he feels really gets him is the mysterious Blue.
I love the relationship between Simon and Blue. Their emails are so funny and sweet and I love how they become more and more flirtatious as time goes by. But they have their misunderstandings sometimes too. Simon is frustrated that Blue isn't ready to meet him and it makes him insecure. He tries to figure out who Blue is and there are a couple of red herrings planted throughout the story but I will say that I had a pretty good guess who it was when I was about 2/3 of the way.
The ending was so satisfying and I'm happy with the way things turned out. I recommend this book to YA fans looking for realistic portrayals of LGBT teens. Actually, I recommend this book to every reader. It's just such a cute, fun read and it has quite a few LOL moments. It is definitely one of my favorite books of 2015.
On a side note, Becky Albertalli has announced on Goodreads that she is currently writing a companion novel and it is tentatively slated for release in Fall 2016! I can't wait!