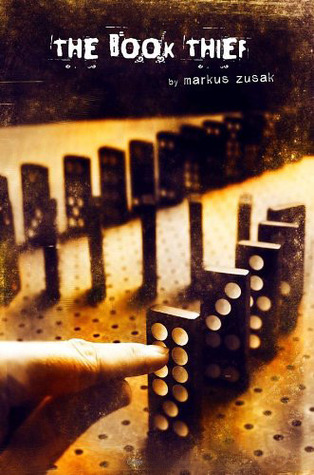 Synopsis: By her brother's graveside, Liesel Meminger's life is changed when she picks up a single object, partially hidden in the snow. It is The Grave Digger's Handbook, left there by accident, and it is her first act of book thievery. So begins a love affair with books and words, as Liesel, with the help of her accordion-playing foster father, learns to read. Soon she is stealing books from Nazi book-burnings, the mayor's wife library, wherever there are books to be found. But these are dangerous times. When Liesel's foster family hides a Jew in their basement, Liesel's world is both opened up and closed down.
In superbly crafted writing that burns with intensity, award-winning author Markus Zusak has given us one of the most enduring stories of our time.
First Published: September 1, 2005
Published By: Knopf Books for Young Readers
Number of Pages: 550
Rating: 5/5
I cannot believe it has take me this long to get around to reading The Book Thief. It's got so many things on my have-to-read checklist:
-Takes place during World War II? Check.
-Features a female protagonist who loves books? Check.
-Lyrical writing? Check.
-Is narrated by Death? Check.
-Is guaranteed to break my heart into a million pieces? Check.
I had such high expectations for this book and it met every single one of them. The writing was so gorgeous it was like reading poetry. I found myself lingering over every single sentence and marveling at the beauty of the prose. It's over 500 pages but I wish it was longer.
The story is deceptively simple. The way Death narrates it in a slightly detached way makes it so you don't realize you care about these characters until something happens to them. And I found myself caring so much. I cared about Max and Liesel and Hans and Rosa and Rudy and my heart broke for every single one of them at multiple points during the book.
I loved the relationship between Max and Liesel. It was so nice to see them go from complete strangers, awkward and unsure around each other, to becoming friends and forming a deep, loving bond. It was so beautiful and so heartbreaking.
I loved the portrayal of Death in the story. He bears witness to all of the atrocities that humans commit against each other and yet he is still able to care about a young book thief. He sees the ugliness of humanity but is still willing to look for its beauty. That was so powerful to me.
I cannot say enough good things about this book. It definitely deserves all the hype that it's gotten. I didn't want this book to end. That's how much I loved it.
This book deserves to be read by everyone. If you haven't read it yet, READ IT!
(Be on the lookout for the 10th Anniversary edition coming out in March 2016! It's available for pre-order.)