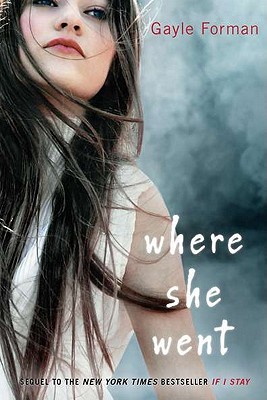 Synopsis: It's been three years since the devastating accident...three years since Mia walked out of Adam's life forever. Now living on opposite coasts, Mia is a rising star at Juilliard and Adam is a bona fide rock star, complete with tabloid headlines and a celebrity girlfriend. Then chance brings them together again, for one night. As they explore the city that has become Mia's home, Adam and Mia revisit the past and open their hearts to the future - and to each other.
In this sequel to If I Stay, we get to witness the aftermath of Mia's tragic accident and how it affected her relationship with Adam.
I was pleasantly surprised to find that this book was told from Adam's perspective. I can't say for sure if this was the reason I enjoyed Where She Went just a little bit better than If I Stay. I find Adam to be a really intriguing character and it was cool to see things from his perspective. Or maybe I'm just a sucker for redemptive love stories.
The characters showed definite growth from the last book. It was interesting to see how both Adam and Mia had changed - and not always for the better.
I did have the same issue with this book as I did with If I Stay: I felt like I never fully connected with the characters. But ultimately, this is a sweet story about rekindled love and second chances and who can resist that?