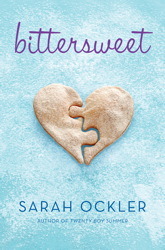 Synopsis: Once upon a time, Hudson knew exactly what her future looked like. Then a betrayal changed her life and knocked her dreams to the ground. Now she's a girl who doesn't believe in second chances...a girl who stays under the radar by baking cupcakes at her mom's diner and obsessing over what might have been.
So when things start looking up and she has another shot at her dreams, Hudson is equal parts hopeful and terrified. Of course, this is also the moment a cute, sweet guy walks into her life...and starts serving up some seriously mixed signals. She's got a lot on her plate, and for a girl who's been burned before, risking it all is easier said than done. It's time for Hudson to ask herself what she really wants, and how much she's willing to sacrifice to get it. Because in a place where opportunities are fleeting, she knows this chance may very well be her last...
I'm just going to come right out and say it: I loved this book so much. It's got everything I'm looking for in a contemporary YA: awesome characters, witty writing, with an inspirational (but not cheesy) life lesson to tie things together.
I love Hudson, the main character. She's wonderfully realistic that I expected her to leap off the page and into my living room at any moment. She's at times insecure, bold, funny, serious, caring, neglectful...you know, like a real person is. It always bugs me when a character is so one-note, so devoid of personality. Thankfully, Sarah Ockler has mastered the art of creating fun, diverse, realistic characters that you just want to be friends with.
And I just have to gush about Sarah Ockler's writing: I found myself laughing out loud at the genuinely funny dialogue, nodding along to a certain relateable paragraph and generally just finding myself immersed in the story. Sarah Ockler is a fantastic writer. I can't say much more except gush, gush, gush, gush, gush.

I also love how this book teaches people that it's never too late to pursue your dreams - and also that it's okay for your dreams to change.

I cannot recommend this book enough. My one complaint: the description of the cupcakes throughout the book are so vivid and mouth-watering that all I want to do now is eat cupcakes.