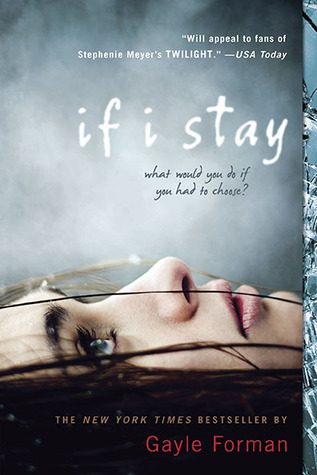 Synopsis: Mia had everything: a loving family, a gorgeous, adoring boyfriend, and a bright future full of music and full of choices. Then, in an instant, almost all of that is taken from her. Caught between life and death, between a happy past and an unknowable future, Mia spends one critical day contemplating the only decision she has left - the most important decision she'll ever make. Simultaneously tragic and hopeful, this is a romantic, riveting, and ultimately uplifting story about memory, music, living, dying, loving.
If I Stay has undeniably become one of those modern YA classics like The Fault in Our Stars and The Perks of Being a Wallflower. And why shouldn't it? It deals with incredibly difficult issues: losing loved ones, fear of the future, and impossible choices.
I did admire the way Gayle Forman told Mia's story by alternating between Mia's present and her past. It was really interesting getting to know the characters bit by bit, each new revelation having some influence on Mia's choices.
I also liked the relationships between characters: the playful one Mia has with her family and the flawed-but-romantic one she has with Adam. I thought Mia's and Adam's relationship was so realistic. It's clear that they're not a perfect couple and they have their issues just like in real-life relationships. And I think that made the tender moments between them all the more romantic.
One thing I did have an issue with: I had trouble connecting with the characters. For some reason, they never really became fully formed in my mind. But overall, I did enjoy this book and yes, I did cry at the end.