As a lifelong reader, I love to read books that challenge me in different ways. Whether it's reading a 10-part book series or decoding a Shakespeare play, I'll gladly tackle any literary challenge that's thrown at me.
However.
There are some books that I have yet to read, not because I don't want to, but because they make me a wee bit apprehensive - usually due to their sheer size (and tiny, tiny font.) Here are the Top 5 books that intimidate me the most.
5) The Tale of Genji by Murasaki Shikibu
The Tale of Genji
is widely considered to be the first novel ever produced which is why I'm so curious to read it. But it's been sitting on my bookshelf, unread, for the past few years because it is 1,200 pages long and weighs a ton. And did I mention the font is minuscule?
4) The Arabian Nights by Anonymous
The Arabian Nights
is usually collected in a single volume of selected stories. But being the overachieving reader that I am, of course I had to get the complete
Arabian Nights
set, consisting of three volumes. And each volume is nearly 1,000 pages long. Someday, I tell myself. Someday. (Maybe sooner than I thought. It's currently in my TBR pile!)
3) The Rise and the Fall of the Third Reich by William L. Shirer
When I saw this book on Bookoutlet.ca, I knew I had to get it. It was a great price and I do love me some World War II history. Little did I know that the book is a whopping 1,600 PAGES! Who knew there was so much to cover about Nazi Germany!
2) Ulysses by James Joyce
To be honest, I'm not even sure what
Ulysses
is about. All I know is that it takes place in Ireland and is said to be one of the most difficult books to get through.
1) War and Peace by Leo Tolstoy
I'm willing to bet that this book shows up on a lot of Top 5 Wednesday lists this week. This book hits the intimidating trifecta - it's over 1,000 pages, it was published over 150 years ago, and it's written by a Russian author. (I find Russian literature intimidating, for some reason.) One day, I'll sit down and power through it - but for now, it's just collecting dust on my shelf.
BONUS ROUND!
3 Books I WAS Intimidated By (Until I Read Them)
3) American Psycho by Bret Easton Ellis
Before I read
American Psycho,
I had heard some...things. But how bad could it really be, I thought to myself. So, so, bad. This book is grotesque, nausea-inducing, insanity. Some of the descriptions actually made me gag. I can't say I enjoyed this book but I can say now that I've read it. I survived.
2) Crime and Punishment by Fyodor Dostoyevsky
Remember what I was saying before about Russian authors? Well, Dostoyevsky is really the first Russian author I've ever read and it wasn't nearly as difficult as I thought it was going to be. Admittedly,
Crime and Punishment
is supposed to be his most accessible novel and this particular translation is incredibly easy to read. The hardest thing was figuring out how to pronounce the Russian names.
1) Les Miserables by Victor Hugo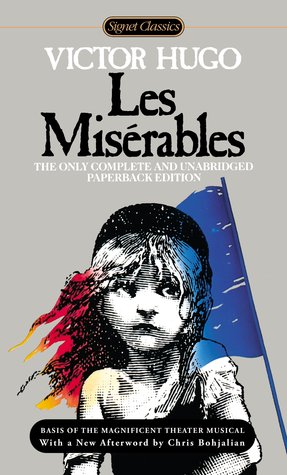 Time to put on my bragging pants - I read
Les Miserables
in high school. Not for a class, but on my own. For fun. (I was a bit like Hermione.) It's definitely the longest book I've ever read, and probably the most difficult. (So much French!) But I found it fascinating and once I was finished, I was so proud of myself. It took me about three weeks, in case you're wondering.
Have you read any of the books on this list? What books are you intimidated by? Let me know in the comments below!
Top 5 Wednesday is an original bookish meme created by Lainey at
gingerreadslainey
. The Top 5 Wednesday Goodreads group can be found
here.