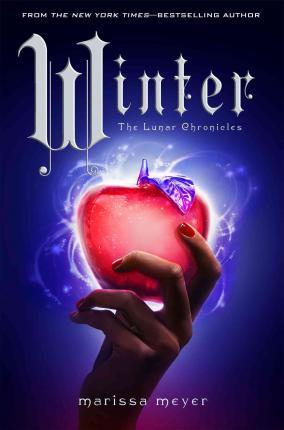 Synopsis: Princess Winter is admired by the Lunar people for her grace and kindness, and despite the scars that mar her face, her beauty is said to be even more breathtaking than that of her stepmother, Queen Levana.
Winter despises her stepmother, and knows Levana won't approve of her feelings for her childhood friend, the handsome palace guard, Jacin. But Winter isn't as weak as Levana believes her to be and she's been undermining her stepmother's wishes for years. Together with the cyborg mechanic, Cinder, and her allies, Winter might even have the power to launch a revolution and win a war that's been raging for far too long.
Can Cinder, Scarlet, Cress, and Winter defeat Levana and find their happily ever afters? Fans will not want to miss this thrilling conclusion to Marissa Meyer's nationally bestselling Lunar Chronicles series.
Date Published: November 10, 2015
Published By: Feiwel and Friends
Number of Pages: 827
Rating: 5/5
I am going to try really hard not to gush too much in this review but, goddammit, it's going to be hard.
I loved this book so. freaking. much.
I can't even comprehend how good Winter is. It wrapped up the Lunar Chronicles so perfectly that I had this big, stupid smile on my face after I turned the last page.
There are so many amazing moments in this book - tons of great, riveting action scenes that are begging to be put on the big screen. And, this being the Lunar Chronicles, there were some really sweet romantic moments as well. I don't think I've ever swooned so much over a book before. I love how each couple is so unique and they all have these different dynamics between them, yet they are all paired so perfectly. My favorite pairing is definitely Cress and Carswell Thorne and I wish they had a few more moments between them in the story, but then again, I can never get enough of Thorne/Cress and there is a lot of other stuff going on. But the moments they did have were so fantastic and gushworthy that I think I died a little from total happiness.
Winter is truly an epic conclusion to the series. Queen Levana really ramps up the crazy and the eventual showdown is brutal and bloody, and no one emerges completely unscathed. I'm not going to spoil the ending but I will say that, for a series based on fairy tales, it does follow form...
The Lunar Chronicles is now one of my all-time favorite series and all I want for it is to blow up. I want everyone to read these books and then I want film adaptations and graphic novels and special limited editions and a theme park...you get the idea.