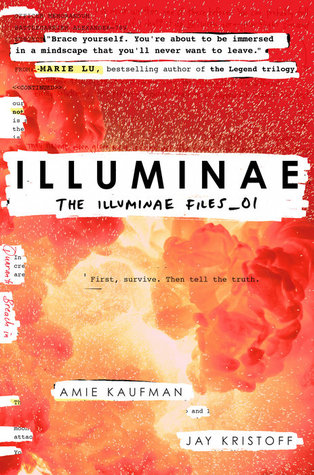 Synopsis: This morning, Kady thought breaking up with Ezra was the hardest thing she'd have to do.

This afternoon, her planet was invaded.

The year is 2575, and two rival megacorporations are at war over a planet that's little more than an ice-covered speck at the edge of the universe. Too bad nobody thought to warn the people living on it. With enemy fire raining down on them, Kady and Ezra—who are barely even talking to each other—are forced to fight their way onto an evacuating fleet, with an enemy warship in hot pursuit.

But their problems are just getting started. A deadly plague has broken out and is mutating, with terrifying results; the fleet's AI, which should be protecting them, may actually be their enemy; and nobody in charge will say what's really going on. As Kady hacks into a tangled web of data to find the truth, it's clear only one person can help her bring it all to light: the ex-boyfriend she swore she'd never speak to again.

Told through a fascinating dossier of hacked documents—including emails, schematics, military files, IMs, medical reports, interviews, and more—Illuminae is the first book in a heart-stopping, high-octane trilogy about lives interrupted, the price of truth, and the courage of everyday heroes.
Date Published: October 20, 2015
Published By: Knopf Books for Young Readers
Number of Pages: 599
Rating: 5/5
Illuminae is one of the most suspenseful, creative, imaginative, awe-inspiring, compelling, mind-blowing works of sci-fi that I have ever read. That might seem a little hyperbolic, but I honestly think this book deserves the highest of praise. Its nearly 600 pages flies by as you race to discover the truth behind the lies - and, also, you want to know if Kady and Ezra will get back together.
When I first started to read Illuminae, I thought it was a little confusing at first but within about 20 pages or so, I was able to grasp what was going on, and from then on, I was hooked. I absolutely love the format of this book - it's told in documents, emails, interviews, etc. It's a tricky way to tell a suspenseful story - but Kaufman and Kristoff pull it off, and pull it off well.
The personalities of the characters really shine through in their email exchanges - Kady is a sarcastic, risk-taking, badass while Ezra is slightly more reserved but still has his own self-deprecating sense of humor. I love how they start out as exes and are forced to work together to figure out what's going on - I'm not going to spoil anything but it's clear that Ezra and Kady are struggling with some unresolved feelings for each other.
By far, my most favorite character in this book isn't even a person - it's a computer. AIDAN, the superintelligent computer in charge of the lead ship, starts out as a villain. There are definitely some references to HAL 9000 from 2001: A Space Odyssey. But when one of the main characters starts to interact with him, AIDAN...changes. And it's so cool to see because it happens so gradually that it's believable.
The ending was spectacular - intense and heart-breaking and uplifting all at the same time. Illuminae has everything - it's funny, scary, action-packed, sad, and it has moments of real beauty. I am so blown away by it and all I can think is I WANT MORE! I highly recommend this book to EVERYONE. If you need me, I'll be over here, madly anticipating the next two books in the trilogy.