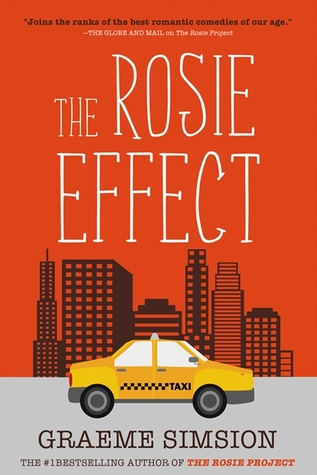 Don and Rosie are back in this delightful sequel to The Rosie Project. The couple have relocated to New York City and big changes are in store - Rosie is pregnant and hilarity ensues.
This book is just as funny and heartwarming as the first but readers be warned: it's not all sunshine and rainbows in this book. Don and Rosie face serious issues in their marriage and reading about them being in love is slightly less fun than reading about them falling in love. To be perfectly honest, I dislike Rosie for most of the book. There are moments where she is unreasonable, angry and just plain unfair to Don. However, this does make her seem more like a real character; a complaint I had when reading the first book was that Rosie didn't quite come to life for me.
Thankfully, Don Tillman is the star of the show and I am amazed at Simsion's ability to create a romantic hero who is both incredibly endearing and unbelievably frustrating. What is so great about Don is that he is genuinely trying to do his best - and that's usually when disaster strikes. Thankfully, everything works out in the end and Don is as lovable in this book as he was in the first.
If you loved The Rosie Project you're going to love The Rosie Effect just as much, if not more. I would definitely read another book featuring Don and Rosie. And I can't wait for the film adaptation of The Rosie Project!