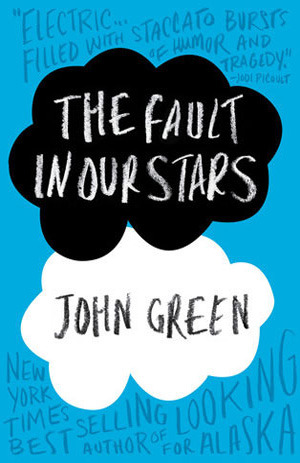 Synopsis: Despite the tumor-shrinking medical miracle that has bought her a few years, Hazel has never been anything but terminal, her final chapter inscribed upon diagnosis. But when a gorgeous plot twist named Augustus Waters suddenly appears at Cancer Kid Support Group, Hazel's story is about to be completely rewritten.
It is a real accomplishment to write a book about two cancer-stricken teenagers falling in love and make it as hilarious as it is heartbreaking. Kudos to Mr. Green for pulling it off. This is a famous tearjerker of a novel and while I personally was immune to having my tears jerked, it definitely made me feel some deep feels.
Hazel is a wonderfully cliche-free character who is smart, funny, and not above watching trashy TV. She's not a typical Victim of Cancer. She can be at times cynical, manipulative, and sarcastic but these faults make her all the more relatable and likable. I don't want my protagonists to be perfect; I want them to seem real.
Which brings us to Augustus Waters. A fun character? Most definitely. A seemingly real one? Hmmm...I'm not too sure about that. If anything, I would say that Augustus Waters is the male version of the Manic Pixie Dream Girl. That girl, mostly in indie films, who is quirky and supposedly full of personality but the only reason for her existence is so the male protagonist can have a Life-Altering Experience that will Change Him For the Better. That's what popped into my mind when I was reading it. For me, the only time when he seemed like a real character was towards the end of the book. (No spoilers, but you've probably already read the book so you know what I'm talking about.)
Aside from that minor complaint, I really enjoyed reading this book. It brings up some big, philosophical questions and will make you think. It is also one of those rare books that makes you appreciate being alive. Highly recommended for everyone (including my boyfriend who has an inexplicable deep-seated loathing for John Green. Go figure.)
Just a quick note: I read this book as part of Chapters' brand new book club on Twitter. The discussion for
The Fault in Our Stars
will be on May 28th on the Chapters/Indigo twitter feed. Find it
here
.