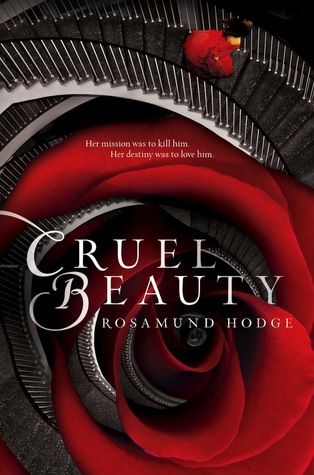 Synopsis: Since birth Nyx has been betrothed to the evil ruler of her kingdom - all because of a reckless bargain her father struck. And since birth, she has been training to kill him.
Betrayed by her family yet bound to obey, Nyx rails against her fate. Still, on her seventeenth birthday, she abandons everything she's ever known to marry the all powerful, immortal Ignifex. Her plan? Seduce him, disarm him, and break the nine-hundred-year-old curse he put on her people.
But Ignifex is not what Nyx expected. The strangely charming lord beguiles her, and his castle - a shifting maze of magical rooms - enthralls her. As Nyx searches for a way to free her homeland by uncovering Ignifex's secrets, she finds herself unwillingly drawn to him. But even if she can bring herself to love her sworn enemy, how can she refuse her duty to kill him?
Based on the classic fairy tale Beauty and the Beast, Cruel Beauty is a dazzling love story about our deepest desires and their power to change our destiny.
Beauty and the Beast is, hands down, my favorite fairy tale of all time. I always get excited when I hear there is a new version or retelling coming soon, whether it be a book or a film. Most of the time however, I am left disappointed by these new versions of the classic story. Beastly by Alex Flinn? Ummm, wasn't for me. The CW's Beauty and the Beast? I tried to watch it but only made it through a couple of episodes. So when I heard of Cruel Beauty I was excited/skeptical. Would this book live up to the hype? Or would it butcher my beloved fairy tale?
Conclusion: It definitely lives up to the hype. Cruel Beauty is now not only my favorite fairy-tale retelling I've ever read, but it is now one of my favorite love stories. It is romantic, suspenseful, original yet still weaving enough elements of the classic story to appeal to Beauty and the Beast fans.
The romantic tension between Nyx and Ignifex is believable and incredibly sexy. I like how it seemed to build over time but the book didn't take forever in getting them together. Nyx is really torn between her duty to save Arcadia and her developing feelings for Ignifex. Towards the end, I was really not sure what Nyx would choose to do or even if the book would have a happy ending. (I'm not going to give anything away because people seriously need to READ THIS BOOK!) I will only say that I was satisfied with the ending.
The book is beautifully written, weaving elements of Greek mythology seamlessly into the story. I was torn between reading the book as fast as I could to get to the ending and slowing down and savoring the gorgeous prose. This book is proof that YA novels do not have to be simply written for young adults to enjoy them. Readers crave complexity and thorough world-building in all genres.
The only complaint I have about this book is that it ended! I wanted to read more about Nyx and Ignifex and the beautiful world in which they lived. I highly, highly recommend this book to Beauty and the Beast fans, YA fans, and book lovers in general. It is not to be missed. I cannot wait to see what Rosamund Hodge does next.